*I started counting on the first Monday that the schools closed due to COVID-19 (3/16/20).
On this 100th day, the kids and I made a list of 100 things we've done since the start of COVID-19 pandemic.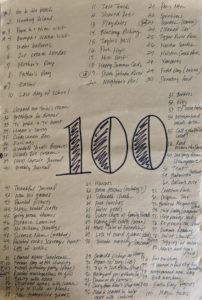 Numerous playdates (for the 3 girls)
TV broke, found a new one
Toshi's first loose tooth
Perler beads
Watched Cool Runnings, The Color of Friendship (P & LB)
Summer reading challenge
"Prepare Ye (The Way of the Lord)" song for music video (LB)
Building forts in their bedrooms
T learned to fold all of his laundry
Learning card magic tricks
We then talked about what each of our favorite was out of the 100.