The unthinkable has happened…we are all homebound for 2 weeks (at the very least).
Only a couple of weeks ago, how many of us had even imagined that our everyday world would change so drastically?
I think this is especially hard for personalities like mine and my oldest's – who likes to have things planned out. We don't like uncertainties! Yet, here we are.
So, this is the goal I came up with our family to help keep our spirits up.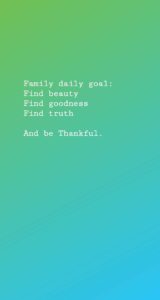 Find beauty, goodness, and truth in each day as a family. And be THANKFUL for what we have, what we still get to do, and most importantly, for the people we still get to spend time with.
Here's what we came up with for Day 1 (we won't be posting a video every single day but periodically throughout the school closure period):
Day 1 Activity Journal
Divide & conquer grocery shopping
Stopped by the library for books & DVDs
Home Safari Facebook Lives presented by the Cincinnati Zoo (hippo)
A neighborhood walk with a couple of neighbors
Started reading The Call of the Wild and Women Who Dared
2 hours outside after Quiet Time
Mood
I'm actually quite impressed with myself for how much we explored and tackled today. Feeling pretty optimistic. Thankful for all the free online resources – and for some unexpected valuable experiences with my family.
Prayer
Abba Father, we need You. In this time of uncertainty, we need Your presence as our constant. Amen.