It was a beautiful, fun-filled weekend, with plenty of sunshine! As we have started to interact more with our friends, we are starting to feel a hint of the pre-quarantine life returning…
Click HERE to view the slideshow of this weekend's adventures.
Day 62 Activity Journal
Family cleaning (upstairs)
We returned to Holston Creek Park with our neighbor friends, dads (& Toshi) played some disk golf (scroll to the bottom for review)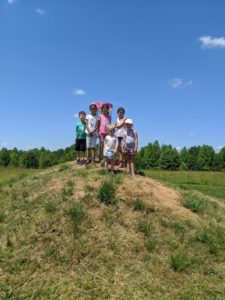 Phone chat with Jael (Maria)
We visited our friends Aubrey & Mollie's house for outdoor BBQ/S'mores, and checked out their new swing!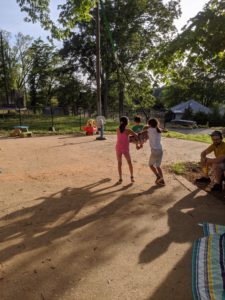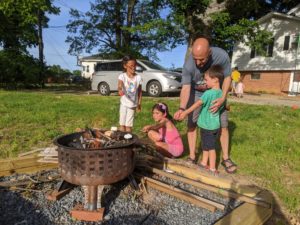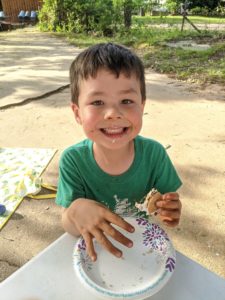 Fire pit in our cul-de-sac
Day 63 Activity Journal
3.1-mile jog for Mommy
Church online (for kids)
Family (& Nellie) walk around the neighborhood
Canopy in the cul-de-sac (for shade)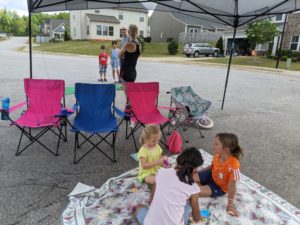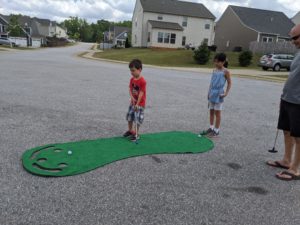 Sprinklers on the trampoline after QT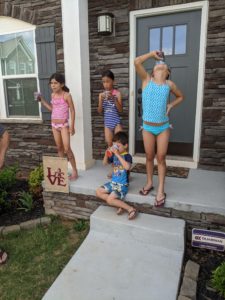 Family evening walk around the neighborhood
Phone chat with Anna (Maria)
Day 62 – 2 hrs before lunch, 3 hrs after QT (Total = 5 hrs)
Day 63 – 2 hrs before lunch, 2.25 hrs after QT (Total = 4.25 hrs)
Review of Holston Creek Park
30 min from home. Free. See this post for more detailed review. It was a completely different temperature than when we visited a week ago. It was HOT. The shady areas helped, but there were other open areas where we were being scorched. We went with another family and the kids had fun playing together. We had a picnic lunch at the picnic shelter (the playgrounds and bathrooms were still closed). It was a great time!