Day 47 Activity Journal
More lessons from Duolingo
Home Safari presented by the Cincinnati Zoo (Chinese alligators)
Daddy & Toshi went to go get free breakfast/lunch
MiniLu's distance learning (online PE, Chinese song, and academics – very light day)
Pnut's & LittleBit's distance learning (both finished by mid-morning)
LittleBit worked on drawing from YouTube videos (mostly by Art for Kids Hub)
Pnut worked on finishing her art apron
Jogging for 5K (Mommy + 3 girls)
Recess (outside)
Family cleaning (downstairs)
Outside time after QT (time with neighbors)
Friday pizza movie night (finished Inside Out) and takeout for parents (Tuk Tuk)
Day 48 Activity Journal
Waffle Saturday
Home Safari presented by the Cincinnati Zoo (World Penguin Day)
Worked on COVID-19 Time Capsule packet (all 4)
Weekly journal (3 girls)
LB helped Daddy to water the garden
Ventured out to Glendale Shoals Preserve in Spartanburg (scroll to the bottom for review)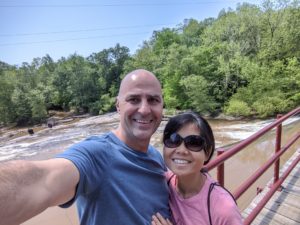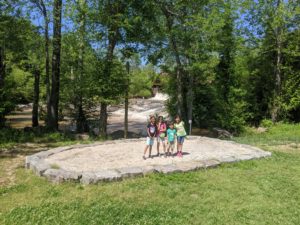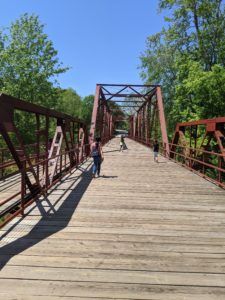 FaceTime with PapaG & Mimi
Haircuts for all 4 kids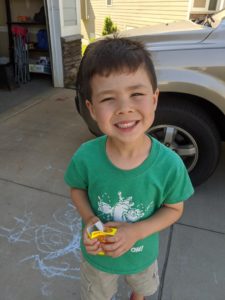 Outside time after QT (with neighbors)
Patio time with Josh & Mindy (after kids' bedtime)
Day 49 Activity Journal
Home Safari presented by the Cincinnati Zoo (orangutan)
Church online (for kids)
MiniLu worked on her science and art projects
Peanut helped Daddy to water the garden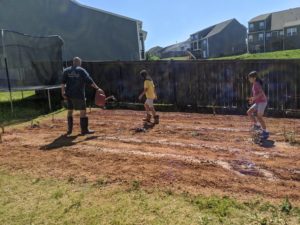 Family walk (checked out the new nature trail the neighborhood is working on)
Sprinkler time outside after QT, while Daddy mowed the lawn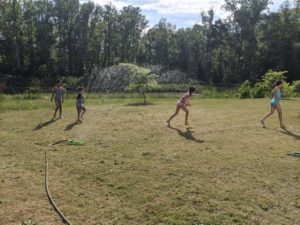 Our friends Leo & Kim came over to hang out on the patio during dinner time
Day 47 – 50 min recess, 2 hrs 10 min after QT (Total = 3 hrs)
Day 48 – 1 hr before lunch, 2.5 hrs after QT (Total = 3.5 hrs)
Day 49 – 2 hrs before lunch, 2 hrs after QT (Total = 4 hrs)
Mood
It's May! April seemed to have gone by more quickly than March did. On Saturday, we ventured out to a new outdoor space. It was not too crowded and it was fun to explore, but we had a hard time finding a clean bathroom to use (we finally ended up at a Spinx gas station). We also had a hard time finding a place to drive thru for lunch. The lines were too long at most places, so after driving around for a while, we ended up just coming home for a late lunch. There were so many cars out on the road – and so many cars in line for fast food or in Lowe's parking lots (both in Spartanburg & in Greer). People we know are also starting to suggest getting together in small numbers outside.
I was frustrated about how our adventure ended, but I came back to a grateful place when we were able to catch up with neighbors in both early and late evening. The weather was so nice, and it felt so good to stay outside with family and friends. When this first started, it was hard to imagine how we'd get through 2 weeks to a month. Now, the months ahead don't seem quite as daunting as it did before.
Prayer
Abba Father, I am thankful for Your presence. Continue to guide us to REST in Your peace and love. Amen.
Review of Glendale Shoals Preserve
45 min from home. Free. There were not many parking spaces, but we were lucky enough to find one by the entrance. It was a quiet, relaxing place. We saw some historic ruins from the old mill, and it was a very scenic walk around the property. It didn't take very long to walk around the whole place (it can be done in 30 minutes or less). I thought I saw a walking trail before we crossed the bridge, but we didn't explore in that direction. Overall it was a very mild and relaxing walk around the property.