Day 26 Activity Journal
Pnut & LittleBit had a day off from distance learning – both spent the morning reading Harry Potter and helping Daddy package socks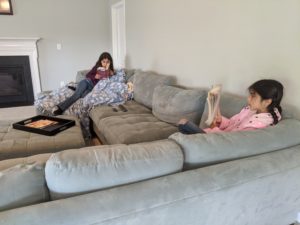 Daddy and Toshi went to pick up free lunch/breakfast
MiniLu's distance learning (online PE, Chinese song, and academics – lighter load today)
Recess (outside)
Outside time after QT (bikes, fortune teller, family walk – finding painted rocks left by neighbors)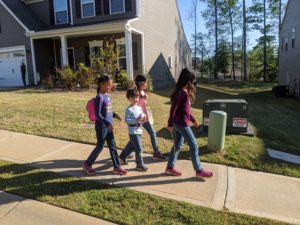 Friday pizza movie night (Coco) and takeout for parents (Tuk Tuk)
National Siblings Day
Question of the Day (Day 27)
What are the best times we've had as a family, and what made them so great?
Day 27 Activity Journal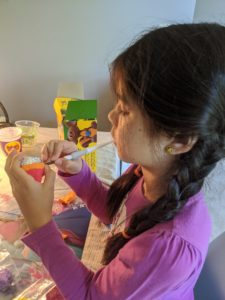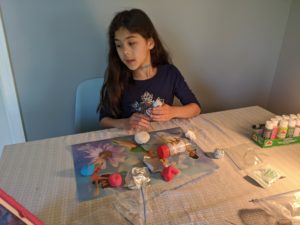 Read another chapter of The Call of the Wild
Worked on COVID-19 Time Capsule packet (all 4)
Outside time after QT (bikes, trampoline, no family walk today)
Takeout dinner from La Reata
Day 26 – 1 hr before lunch (P & T), 30 min recess, 2.5 hrs after QT (Total = 4 hrs)
Day 27 – 1 hr before QT (younger 2), 2.5 hrs after QT (Total = 3.5 hrs)
Mood
The kids and I had a productive morning of cleaning, while Allan helped with a neighborhood work project. I love the more relaxing mood that the weekend brings. Hard to believe – tomorrow is Easter! Also hard to believe – we moved into our forever home 4 years ago. We love our home & neighborhood, we can't think of a better place to be "stuck" in during quarantine.
Prayer
Abba Father, thank You for the gift of our home and our neighborhood. Amen.