Finding Beauty, Goodness, and Truth  (Day 14)
Beauty
MiniLu – Purple flowers in our backyard are pretty.
Goodness (Kindness)
Little Bit – When Toshi got hurt, all 3 of us sisters went to help him immediately.
Toshi – I gave Mommy flowers today.
Mommy – Kids are coming up with new creative ways to play every day (today was jump roping while taking a walk).
Truth
Peanut – I learned to squeeze lemons with a squeezer.
Little Bit – I taught Toshi how to play hand clapping game Avocado.
Thankful
Daddy – It was nice to catch up with our friends Raphy & Anne today via video chat.
Day 14 Activity Journal
4-mile jog for Mommy
Tried putting up the canopy in the culdesac (for shade) but it was too windy today
Family walk around the neighborhood (Mommy + 4 kids)
Zoom chat with our friends Raphy & Anne during QT
P and LB helping me with making guacamole and squeezing lemons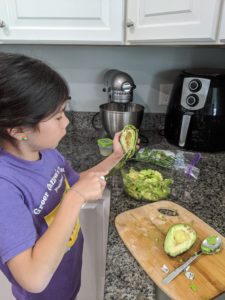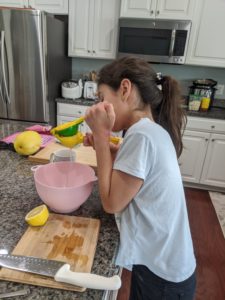 Another family walk after QT (all 6 of us)
Outside time after QT (trampoline, jump roping, hand clapping games)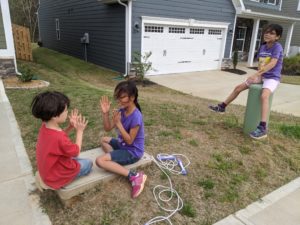 Read another chapter of The Call of the Wild
Zoom chat with some of our church friends
2 hrs before lunch
2 hrs after QT
Total today = 4 hrs
Mood
It was a pretty relaxing Sunday. It was windy but a nice day, so we were able to spend plenty of time outside again. We took a really long walk in the afternoon, stopping by to talk with neighbors (from a distance). After dinner, I (Maria) received a video message from Toshi's preschool director. She talked about setting the kids up for zoom chat in the coming week. She also spoke about getting ready for their "graduation program" and trusting God that it will happen. This made me break down and sob. That's what I'm grieving the most – the loss of the precious last few months of T's preschool years. It breaks my heart when I think back on the simple days of picking him up from preschool and seeing his smiling face come running towards me. My heart aches for those days.
Prayer
Abba Father, my heart is grieving. I know that I have a lot to be grateful for. But You also know how much I had intended to treasure and soak in these last few months of his preschool years. Please be with me through this grieving process, and please help me to find closure. Amen.