Finding Beauty, Goodness, and Truth
Beauty
Little Bit – My cabbage is pretty.
Goodness
MiniLu – Nellie shared her toys with me.
Nator – Daddy and I played baseball today.
Peanut – Nator went with me around the pond to find sticks.
Mommy – Being able to have Sushi Go for dinner!
Truth
Peanut – Oil does not mix or dissolve in water.
Daddy – Peanut and Little Bit are getting along great this week.
Thankful
Mommy – Was able to go out on an errand (my first time out of the neighborhood since Monday!) with just Toshi, like the good ol' days.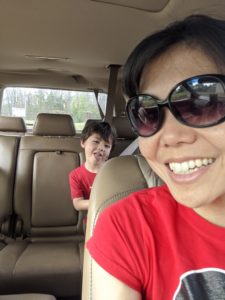 Day 5 Activity Journal
More lessons from Duolingo
More videos from Science Mom
MiniLu's distance learning (online PE, Chinese song, and academics)
Video chat with PapaG and Mimi
P and LB playing a lot outside, going for a walk with Daddy (helping to pick up trash), playing games in the (indoor) tent
Art project by McHarper Manor (peg dolls) – LittleBit continued with this project
Recess – a walk/bike ride to the playground (Mommy, ML & T – these two are best buds)
2.25 hrs outside before lunch
2.75 hrs outside after Quiet Time
Total today = 5 hrs
Mood
Glad that it's Friday! Made it through one week. It definitely felt longer than usual. We could NOT have asked for a more beautiful night. Our family, along with our neighbors, lingered outside for a while, enjoying the great weather. Peanut and LittleBit are finding their way to being best friends again…this makes my heart happy.
Prayer
Abba Father, there is much to learn from this experience of being forced into a much slower-paced life. Help us to soak them in, deep into our hearts. Amen.