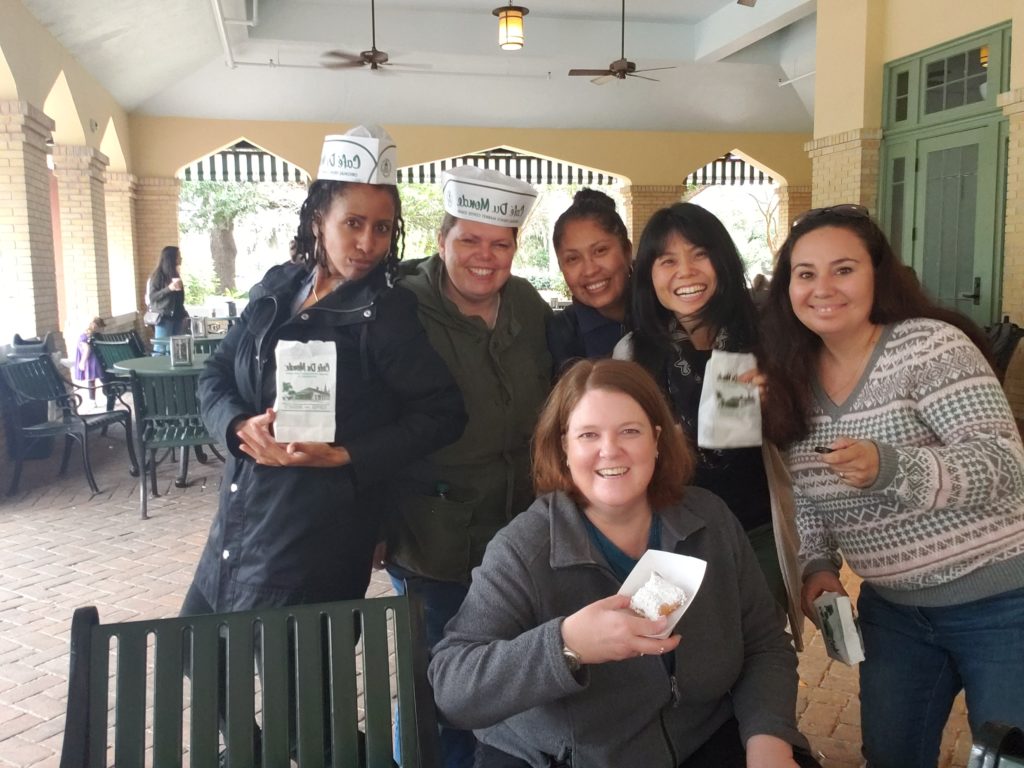 NOLA Trip Slideshow (Dec 6-9, 2019)
My heart is so full and thankful. I can't even begin to describe how perfect it was (well, just 3 pts shy of perfect😜). One of a kind city, so much to see, energy that's electrifying and contagious (esp on game day), rich culture & history, & ALL the yummy food. But the best part was experiencing all that with my 5 lifelong friends (1 from high school + 4 from college)…full of real conversations, laughters, and even tears. Last time we were all together was for my wedding in FL, almost 14 years ago. It was as if no time had passed.
I can't think of a better way to bring in my new decade. We created so many memories that I'll cherish forever ❤️ A big thank you to their families for letting me borrow them for 4 days, and to my own husband who spoils me- thank you 😘
My NOLA Top 5
#5 Celebration in the Oaks at City Park.
This was not in our agenda. Our bus tour guide told us that this famous holiday lights festival is happening every night. He also told us that this is the first year they've gone back to using over a million lights since Katrina. It was spectacular…we took a train ride through the park, walked through gardens dressed with holiday lights, and stopped by Cafe du Monde (at City Park) for some late night snack.
#4 The Food. Oh the food!
I am a foodie. I'm not a foodie who likes fancy places, I'm a foodie who loves to experience the casual & comforting local flavors.
From my time of living in L.A., I know that good foods are often found in places where there are a lot of competition. Let me tell you, NOLA has A LOT of competition for yummy food!
I did enjoy the Cajun food experience, but my 2 favorites were the poke bowl at Flamingo A-Go-Go and brunch at Streetcar Cafe New Orleans. Beignets were yummy but I was even more impressed by the chicory coffee from City Park Cafe du Monde. You do pay for your food there (both your wallet and your body), but oh so worth it!
#3 Diverse Cultures, Entertainment, & Architecture.
This city has so much to offer in terms of rich history & culture…and non-stop entertainment. Street performers/bands are Amazing, and there are marching parades going on all over the city, any time of day.
It wasn't a surprise that the French Quarter provided experience like no other. My favorite moment there was when we saw a real-time wedding march taking place in the middle of the street! This city is too cool!
#2 Jazz at Preservation Hall. Technically it should be included in #3 (diverse cultures/French Quarter), but it deserves its own spot in the top five list. AND if I wasn't such a huge football fan, it would be at the #1 spot.
It was an experience like no other…really, on a soul/spiritual level. After they mesmerized us with their first song, the bandleader said, "NOW you've experienced New Orleans." And I knew his statement was true. At the end, they played "What a Wonderful World" and I was in tears. After listening to something that breathtaking, it's hard to doubt that we really do live in a wonderful world.
I can't recommend this place enough- if you visit NOLA, you have to go listen to jazz at Preservation Hall. $20 at the door. Worth every penny!
#1 Who Dat Nation.
That's what I came to see with my girlfriends, and that mission was accomplished.
Many people ask me, how did you end up being a Saints fan? Here's the story.
I never played sports, but I always got my adrenaline going by watching sports. My dad got me into watching NBA as a teen. In my 20s, while living in FL, watching Tim Tebow helped me to understand football rules better. I became a football fan. I followed Tebow in his NFL journey… until it came to a sad & unfortunate end. I needed a new team. In 2013, I was reading Drew Brees' book Coming Back Stronger, and I was inspired by the story of his faith…as well as the triumphant story of how both he and the city of New Orleans needed a "rebirth" and they came together to bring a Super Bowl win to hearts that desperately needed a reason to rejoice. From then on I was hooked.
The energy on game day in NOLA (and even leading up to the day) was electrifying. The Uber drivers were just as nervous as I was about the game. The Saints truly bring this city together, and the Who Dat Nation really love their #9. After the loss, as people were walking away from the Superdome, a lady in the car popped her head out of the window and shouted, "Keep your heads up! Brees would not approve of this!"
I loved sharing in all the celebrations and the sorrows with Who Dat Nation, watching the best game of the season so far (which also was the most expensive- hence the reason why we watched the game right outside of the Dome).
Loved every moment of this experience! Someday I'll make it to inside of the Dome and experience the celebration of a big WIN!