Day 31 Activity Journal
Continuing our Spring Break at Home, our family's theme for Day 3 was African safari.
Video lesson about African safari from National Geographic Kids (all 4)
Pnut's & LittleBit's distance learning
Playtime for ML & T
MiniLu, Toshi, & Mommy went to pick up free lunch/breakfast
Another video on African Safari wildlife
Recess (outside)
Jogging for 5K (Mommy + 3 girls)
Outside time after QT (chalk – followed this video to draw safari animals, bikes, etc.)
Question of the Day (Day 31)
What is something new you learned about African safari?
Peanut – Some roofs of African huts are made of cow poop.
Little Bit – Hippos fight with each other for their land.
MiniLu – Cheetahs run faster than leopards.
Toshi – Elephants are largest mammals on land.
Day 32 Activity Journal
Continuing our Spring Break at Home, our family's theme for Day 4 was Amazon rainforest.
Video lesson about Amazon rainforest (all 4)
Pnut's & LittleBit's distance learning (both done by 11am)
Playtime for ML & T
MiniLu, Toshi, & Mommy went to pick up free lunch/breakfast
ML & T created paper chameleon with moving tongue from this video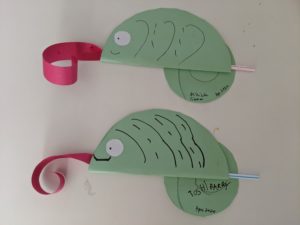 Virtual field trip of the Amazon rainforest (during lunch)
Longer recess (outside)
Daddy took T to get an immunization shot
Watched Home Safari on Facebook Live at 3pm (P & LB – bald eagle)
Read another chapter of The Call of the Wild
Outside time after QT (trampoline – siblings P & T got into it a little, bikes, family walk)
Watched the movie Rio 2
FaceTime with our friends Aubrey & Mollie after kids' bedtime
Question of the Day (Day 32)
What is something new you learned about Amazon rainforest?
Little Bit – Amazon rainforest used to be nearly as big as the size of United States (before humans started destroying).
Toshi – Sloths have low temperature.
MiniLu – There are two-toed sloths and three-toed sloths.
Peanut – Toucan's beak can get as big as the rest of their body.
Day 31 – 30 min recess, 2 hrs after QT (Total = 2.5 hrs)
Day 32 – 1.5 hrs before lunch, 2 hrs after QT (Total = 3.5 hrs)
Mood
Tension was high at certain points today, among various family members. Sometimes it's really hard to have patience with one another, especially when we are always together. But as always, before long, we were able to apologize and like each other again. It's been over a month since the quarantine started. Wow. What a month. In a way, it passed slowly…but in another sense, a month went by fast.
Prayer
Abba Father, continue to cover us with Your grace and love. Amen.